The Samsung Galaxy S6 just released and might be one of the best Android smartphone on market right now. Die new Samsung flagship smartphone not only looks good, it has also really good and fast hardware. But even if many Galaxy S6 reporting a good experience and are happy about their new phone, other users run into different problems, like randomly disconnecting WiFi or slow internet. But that's now a big surprise because every new smartphone on the market comes with some bugs and issues which can be often easily fixed. Even if the Smartphone is very good, the first users report issues with WiFi disconnecting and reconnecting. The problem occurs usually randomly. Some users report they have this issue when using apps like Facebook, WhatsApp or Snapchat and some users report it happens randomly when surfing the web. The issue can be a frustrating problem especially if you rely on your Internet connection. So how to fix the Galaxy S6 WiFi disconnecting issues? We have collected some possible solutions for this problem, which might be helpful.
How to fix Samsung Galaxy S6 WiFi issues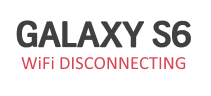 We also were affected by the problem. First we thought that a weak WiFi signal is the reason for this issue, but this was not the case. After we have been looking for some possible causes, we finally found a solution. To this the WiFi disconnecting and dropping issues on the Samsung Galaxy S6, we had to disable the Smart Network Switch. After we did that, the issues was gone and we now have a fast and stable WiFi connection.
Disable the Smart Network Switching
The Smart network switching is a functions which intelligently switches between your WiFi connection and your bands. We don't know why, but after we disable this function, our issues were gone. Try it out. To do it, just follow the steps below.
Go to your Homescreen and tap on "Settings".
Now go to "WiFi" and "More".
Disable the "Smart network switch" and tap on "Off".
Now your smart network switching setting should be disabled.
Do you also have problems of with a disconnecting WiFi on the Samsung Galaxy S6? The above solution helped you further? Do you know other solutions? Just leave us a comment.