Help, my Samsung Galaxy S6 screen won't turn and stays black. What can I do now and how to fix this issue? Samsung hast just released their new smartphone flagship and the manufactured a great device. This Samsung Galaxy S6 comes with a great Quad HD Display and a powerful CPU. Even though the Smartphone has no more SD card slot and also the battery can't be replaced so fast as with Galaxy S6, the smartphone is just great. But as with any Smartphone, there can be problems here, too. But with any new smartphone on the market, there may be some problems with the time. A relative common problem with smartphones is, that the screen won't turn on and stays black. For the problem, there may be several causes, which is why we have described some possible solutions on this page.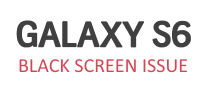 If the Galaxy S6 screen stays black, you should hold the power button, and plug the charging cable. If you haven't used the Galaxy S6 for quite some time, the cause could be just an empty battery. In this case the device will maybe change into the deep sleep mode. To fix this, ensure that the battery is charged and hold the power button for 10 to 20 seconds.
Boot into the safe mode
To avoid that a third party app is the cause of the problem, you should start the Galaxy S6 in the so called safe mode. In the safe mode only the most important and necessary apps will be loaded. Maybe this will fix the problem Galaxy S6 screen won't turn on because you know the cause. In this case a hard reset can often help. To start your Galaxy S6 in the safe mode, just follow the steps below.
Press and hold the Power button, until the Samsung screen appears.
When the Samsung logo appear, let go the power button and hold down the Volume down key.
Now you should see a little "Safe mode" text in the bottom left corner.
Galaxy S6 screen stays black, perform wipe cache partition
If the screen still won't turn on, it maybe can help to run the wipe cache partition in the Android recovery mode. We have described you in the following list, how you can start the function.
Turn off your Galaxy S6 and press and hold down the Power, Volume up and the Home buttons together.
After the beautiful Samsung logo appears you should see a blue recovery text at the top.
Use the Volume up and down keys to navigate in the Recovery menu. and mark the entry "Wipe cache partition".
Start it with the Power button and finish the process with "Reboot system now" and you done.
Do you know other possible solutions to the issue, that the Galaxy S6 screen won't turn on? Share your experiences with us and other users in the comments.