How to turn off the camera shutter sound on the Samsung Galaxy S6 or S6 Edge? Samsung has just released their new flagship model and the Galaxy S6 is on the market. This device might be one of the best smartphones on the market right now und many users reporting a good experience and like the new phone. But as with any new Smartphone, there are some frequently asked questions. A common questions is how to turn of the camera shutter sound. Some users are annoyed of the loud sound and it can lead to embarrassing situations. In the USA digital cameras and smartphone cameras must make a sound when taking a picture. Perhaps this is also a reason why you cannot find a setting in the camera app? We have found two solutions to mute or to make less noise.
How to mute the camera shutter sound of my Galaxy S6?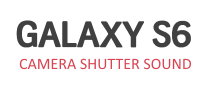 As described above, there is no setting in the camera app of the Galaxy S6. To avoid the annoying camera shutter sound, you just have to mute your phone. Press the volume down button until it goes into the vibrate mode and if you take a picture now, you should not hear the sound. Thus, all other sounds are muted including notifications. For this reason you should enable the sound again after using the camera app on your Galaxy S6.
Use third party apps with no shutter sound
Alternatively you can use a third party camera app for your phone. Just search for "Camera" in the Google Play Store and you should find a bunch of great apps. Many of the apps are completely free and offer great features. Many of the third party apps have no or a customizable camera shutter sound.
Do you know more solutions for this issue? Share your experiences and leave us a comment.