You just update to the new Samsung Galaxy S4 Android 5.0 Lollipop update and your smartphone is very slow now? Then you are not alone, because many users report over performance problems and a slow device after they updated to Android Lollipop. It may can happen that your device is slower and the menu is lagging when you scroll through your apps. As with any big major update there can be always problems after an update and so it is apparently also on the Galaxy S4. But don't worry, because these problem usually can be fixed really easy and fast, if you know how. Of course a complete factory reset usually helps to get the device fast again, but it's was not necessary in our case. In this tutorial we will show you how we fixed the performance issues and lagging after the Lollipop Update on the Galaxy S4.
How to fix Galaxy S4 Performance issues after Lollipop Update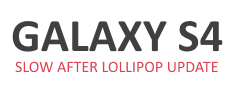 As mentioned above could we fix the issue very fast and easy by simple using the Wipe Cache Partition feature. This feature will delete the temporary system files, which solved the lag and slow problem for us after the Lollipop update. You can start the Wipe cache partition on the Android Recovery Menu on your device. This will only delete the temporary system files, all your personal data like pictures, videos, messages and so on are safe and will not get deleted. Just follow our instructions to wipe your cache partition and fix the Galaxy S4 slow after update issue.
Run wipe cache partition
Turn off your Samsung Galaxy S4.
Now press and hold the power button, the volume up and the home button on your Galaxy S4 until it vibrates once.
If the device vibrates you have to release the power button and keep holding the other two buttons.
After some seconds a new windows should appear and this is the Android recovery menu. You can navigate through the recovery menu by using the volume keys.
Now navigate to "Wipe cache partition" and confirm the steps and warnings with the power button.
This steps usually takes some seconds and once it's finish, you can restart your Galaxy S4 with "Reboot system now".
This little trick helped us to solve the Samsung Galaxy S4 slow after Lollipop Update issue. If you have any other tips or potential solution to this topic, just leave us a comment.