How can I fix the SIM Card not detected error on my Samsung Galaxy S4? This is a common question asked in connection with the Samsung Smartphone. We also have a Galaxy S4 and after we changed our SIM card, an error message popped up. This error message was "SIM Card not detected". What can I do to solve the problem? On this page we have described some possible solutions for this issue. The Samsung Galaxy S4 is still a very popular smartphone. Even there is already a successor called Galaxy S5, who is looking for a cheap and good Smartphone, we can recommend the Galaxy S4. The good hardware has no problems with current apps and playing them without any problems. Even if the unit is very reliable, there are problems and errors sometimes, like with any other Smartphone. A frequently named issue relates to the SIM card that is not detected.
Potential solutions for the Galaxy S4 SIM card not detected issue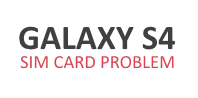 Here are some steps that you should follow, if you facing this issue with your SIM card. If you have made other experiences with this problem, then leave us a comment. Your tips may help other owners of the Galaxy S4 with the "SIM card not detected error" problem.
Method 1: Check your Sim card slot
A frequently mentioned cause for the problem is a dirty SIM card slot. Therefore, you should check first whether is dirty on the SIM card or in the slot. Here often accumulates dust, which may be the cause. Just blow some air into the area and the issues should be fixed. If notice that the pins are damaged, then you should fix and get it repaired.
Method 2: Check for software update
If the problem is still not resolved, start your Samsung Galaxy S4 and search over settings for a firmware update. Some users had installed an android old version, so that a software update has helped in this case.
Method 3: Phone locked to a specific carrier
Another common issue for the SIM Card not detected error is simply a lock to a specific carrier. Check the details of the seller and verify, if the SIM lock is active. If yes, usually this is the problem for the error message. Under certain circumstances you can remove this SIM lock maybe.
Method 4: SIM card damaged?
Another reason for the problem may be a corrupted SIM card. To check this, you can insert a different SIM. Look for a physical damage, like fire marks or other big scratches on the circuit board. Do you know other possible causes for the problem? Write us a comment with your experiences on the issue.