How to hide apps on Samsung Galaxy S4? On this page you will find a guide to hide or show individual apps on the Galaxy S4. The Samsung Galaxy S4 is already on the market for some years. However, the Smartphone is very popular. Cheap price and a good hardware, so that even current and sophisticated apps and games run very smooth on the device. Many functions are very easy to set up and to use. Yet there are always individual questions and this include the questions, how to hide apps on the Samsung Galaxy S4. We also have asked us this question and have therefore created a tutorial on the topic. It is different than intended very easily perform this function. Hiding apps is easier than initially thought. To do that, just follow the steps blow.
How to hide and show apps on Samsung Galaxy S4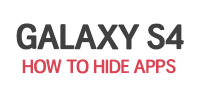 In addition to the method presented here, there are also many apps that allow to hide individual apps. Who wants to do it however as easy as possible, this method will be sufficient. If you know more methods, then leave a comment under this page. Just follow the step by step guide below.
Hide apps
First we'll show you how to hide apps from screen.
Go To "Apps" through the home screen.
Tap on the menu key and then select "Hide applications".
Now you'll see a checkbox in each installed app on your Galaxy S4.
Tick the checkbox of the app, you wish to hide from the screen.
Tap on the "Done"-Button and you're done.
Show hidden apps
First, go to the "Apps" menu through the home screen.
Tap on the menu "Show hide applications".
All apps, include the hidden ones, will appear with the checkbox.
Just tap on the checkbox of the hidden app and it will be fully visible again.
That's it, you can hide apps easily on your Samsung Galaxy S4.