How can I change the color scheme on my Samsung Galaxy S4 running the new Android Lollipop 5.0.1? Currently, this is a frequently asked question after the Lollipop update. Samsung has just released the new Android 5.0 Lollipop and we could not wait for the update and installed it directly. Even if the installation completed without any problems and it's running very good and stable, there are some optical changes that we wanted to change. This change is that the color scheme in App like the Texting app or the Contacts app has changed to orange, blue, green and yellow. Even if the change is a matter of taste, we have searched for a way to change the color scheme.
How to change Samsung Galaxy S4 Touchwiz color scheme after Lollipop update?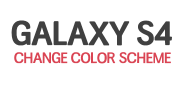 The subject is discussed in many forums on the web. Some users don't like the change and some users like the new and colorful design. In a forums thread, that was deleted meanwhile, a user reported of a setting in the developer options. This setting allows you to change the color schemes on your Galaxy S4 running the Touchwiz Lollipop skin. To change the color scheme, you have to activate the Developer options first, if they are not already enabled.
Go to settings and navigate to "About device".
Now keep tapping on the Build Number until a little popup with the text "Developer options are turned on" appears.
Now navigate to the Developer options and search for the option called "Simulate color space".
This setting including 4 different options right now. We choose "Monochromacy" to disable the colorful scheme with orange, yellow, green and blue.
Do you like the new design? Do you know more methods to disable the color scheme on the Galaxy S4 after the Android 5 Lollipop or Touchwiz update? Please leave us a comment, if you have any tips.