You want to connect your Samsung Galaxy S6 to your TV and don't know how? In this tutorial we will show you the different methods how to connect the device to the TV and stream media like videos or just mirror the Galaxy S6 screen. Samsung has just released their new flagship and it's a great device. A new and beautiful design paired with powerful hardware and a beautiful screen with great colors. As with its predecessor, the Smartphone brings many functions. There are also some differences as compared to its predecessor. This includes among other things the no longer existing microSD slot and you can't replace the battery so easily as in the predecessor. Another change is that the MHL cable connection is no longer supported. On the question of how to connect the device to your TV an important information. But don't worry, there are still many ways to transfer or mirror your Smartphone screen on the TV.
Connect Samsung Galaxy S6 to TV: How To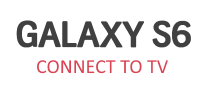 We found some ways to connect or mirror your screen on the device. If you have any questions or you know easier methods to mirror the Smartphone screen, just leave us a comment.
Use Miracast
An easy way to transfer your Smartphone screen in seconds to your TV is of course Miracast. This will allow you to share the image in seconds of almost every apps like Netflix, YouTube and more. If you don't have a Smart TV that doesn't support Miracast on your desk, you have to obtain a Fire TV Stick or Box or just a Miracast video adapter. Setup the device on your television and register your Galaxy S6 once.
To do that you have to open the notification panel on your smartphone and go to "Quick connect" and "Register TV". Once this is done, you can stream the Video with the Display-Arrow-Icon.
Use BLE
Another easy way to transfer your smartphone image to the TV is BLE. BLE stands for Samsung's Bluetooth Low Energy feature which will allow you to stream your screen. If your TV supports that feature, you just have to open the notification panel again and go to "Quick connect". Choose "TV" and then go to "Tap TV to mobile device" and you're done.
Connect your Galaxy S6 to TV via Chromecast
Of course Chromecast is one of the easiest method to connect and mirror your Samsung Galaxy S6 to TV. Just get a Chromecast, set it up on your TV and connect from your smartphoen to this little useful device. Now you can streams nearly every app like Netflix, YouTube and it's even possible to use Galaxy S6 screen mirroring to bringt your screen on the TV.
Get a Chromecast, connect it to the HDMI port of your TV and set it up.
Ensure that the Galaxy S6 and the Chromecast are connected to the same Wi-Fi Network.
Get the Chromecast App for your Galaxy S6 to use screen mirroring or just start the YouTube app. Open a video and bring it with the Chromecast button to your TV.
Galaxy S6 Support for MHL cable connection?
As mentioned above, the Galaxy S6 doesn't support the MHL cable connection anymore. Unlike on the Galaxy S5, you have to use one of the above described methods.
As with the MHL cable connection and the Samsung Kies support, AllShare has beed replaced by another feature. The feature is called Samsung Link and provides nearly similar functionality as AllShare.
Now you know how to connect your Galaxy S6 to TV and transfer movies or just use screen mirroring.